Secure payment
credit card payment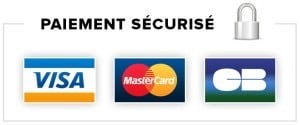 Payment by credit card is secure through the SSL protection and encryption system provided by SYSTEMPAY services. 3-D secure payment is a secure Internet payment protocol. Deployed under the trade names "Verified By Visa" and "MasterCard SecureCode", 3-D Secure was developed by Visa and MasterCard to limit the risk of fraud on the Internet, linked to the illicit use of payment card numbers. Its purpose is to ensure, during each online payment, that the card is used by its real holder.
For payment by credit card, we also use the PayPlug solution, which complies with VISA and MasterCard standards, and which meets the latest security standards.
All transactions are made on secure HTTPS payment pages. Card numbers and sensitive data are fully encrypted and protected using TSL protocol. PayPlug's 100% secure servers are PCI-DSS compliant; this means that no banking information is transmitted to us. Your card number will never be known or stored.
PAYMENT BY PAYPAL
PayPal is a simple and secure online payment solution. To use this service, you just need to create an account to register your card and bank account. It's fast, free and completely safe. The Paypal account is automatically available, and simplifies all online purchases. Concretely, payment by Paypal avoids having to enter your bank details for each purchase: an email address and a password are enough to debit the account. Paypal applies a data encryption system and anti-fraud technology to protect its users' information.
We offer payment in installments with ALMA depending on your country of residence. It is possible to pay in 2, 3 or 4x from 150€ of purchase with your credit card, visa or mastercard.